Senior School News
CONGRATULATIONS!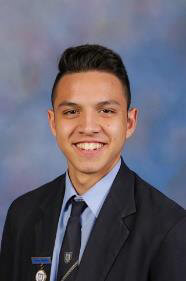 Congratulations to Michael Chhiev (Year 12) who was selected to participate in the Leader Community News photoshoot for Tomorrow's Leaders 2020.
Michael was one of just 26 school captains invited to represent Melbourne's thousands of Year 12 students.
The session took place on Tuesday March 3, at Parliament House.
Well done, Michael!
A Great Start To The Year!
Thank you to all students, teachers and parents on a positive start to the year. The three-way partnership is crucial to building firm foundations for our students to feel safe, supported and encouraged, and to be able to achieve to the best of their ability.
SRC
Congratulations to the students who were elected to the SRC for 2020:
Year 12 Michael Chhiev, Deanna Pace, Elih Gentikoglou and Konstantinos Kouklatzis
Year 11 Athanasi Triantafillou, Argela Harka and Elli Constantinou
Year 10 Jamie Kondilis and Anthony Georgiou
Year 9 Tia Triantafillou and Paul Ketikidis
Year 8 Sarah Khoury and Pantelis Stefanidis
Year 7 Daniel Bridgeman and Alecos Triantafillou
It's encouraging to see so many young leaders at the College!
Darebin 2020

Our SRC students will be participating in the Youth Leading the World (YLTW – Darebin)) program. This is an opportunity for young people from schools around the Darebin area to come together to share their concerns and to create innovative and collaborative action plans for the future of their community.
Date: 18-20th March
Time: 9.15am to 3pm each day
Venue: Preston Shire Hall, Gower St, Preston
Uniform
The College prides itself on students being correctly attired and most of our students wear their uniform with pride. Unfortunately, we have noticed some Senior College VCE students wearing the incorrect uniform without an explanation. In order to maintain standards, we ask for your support in this matter.
Please support the College by ensuring that your child shows pride in the College by wearing the College uniform correctly. Only school issued uniform items will be acceptable. VCE students enrolled in Physical Education may wear their sports uniform only during timetabled PE lessons.
We are very proud of our school and of our students, and believe that high standards of uniform, behaviour, being properly equipped and attending classes and school regularly, give each and every one of our students the very best chance of learning and achieving to the best of their ability.
Thank you all very much, in advance, of your anticipated support and understanding.
Senior College Information Evening
Thank you to all the parents, teachers and students who attended the Senior College Information Evening on Wednesday 19 February. Parents were informed about the exciting projects and programs happening at St John's College, the daily routine, subjects offered from Years 7 -12 and the various extracurricular activities available to our students. There was also an opportunity for parents to speak to their child's teachers, as well as meet other parents. The partnership of students, parents and teachers is important in achieving positive outcomes and helping our students achieve their goals.