COVID-19 Info
State of Disaster 5.8.20 to 13.9.20
Home is the safest place for all of us during this health emergency.  Permitted workers who need supervision for their child during the school day must provide a letter from their employer with the days/times they are required to work.   The list of workers (provided by the Victorian State Government) may change at short notice. Please note: if you have a family member who can provide supervision at home for school age children and they can learn remotely this is the default arrangement.  The intention of the Stage 4 restrictions is to minimise all movement within the Melbourne Metro area and stop the spread of the Covid-19 virus.  Everyone on site at school during the pandemic is at increased risk of contracting the disease.
Permitted Workers
RETAIL
Supermarkets and grocery shops
Bottle shops
Convenience stores and newsagents
Cafes, restaurants (take away and delivery only)
Petrol stations
Banks
Pharmacies
Post offices
Hardware, building and garden supplies for trade
Bunnings (Click and collect only)
Locksmiths
Electricity, gas, water providers
Vehicle repair and maintenance
Stationery services (business use only)
Disability and health equipment
Maternity supplies
SHOPPING CENTRES
Open but only with access to some stores
CONSTRUCTION
Repairs to homes are allowed if for emergency or safety
Construction of critical infrastructure
MEDICAL
Community based services with a referral from a registered medical practitioner
All teachers will be working remotely from their homes to ensure that they are safe (this is the College's OHS obligation to staff).  Supervision will be provided at school; this will be by a learning support officer with the oversight of a member of the leadership team (VIT Registered).  The students will require a laptop/device and will be working online accessing the SEQTA learning program/within TEAMS (the same as the students working at home).  We need to minimise the number of all people on site in line with the State of Disaster Stage 4 Restrictions.
Note: vulnerable children are those in protective care and or known to be at risk in the home by DHHS.  If this applies to your children contact the principal as a matter of urgency.
Flexible and Remote Learning Guidelines – Stage 4 Restrictions
Teachers will be working/teaching remotely from their homes.
All education programs are online.
All students are working remotely from home (the only exceptions are in line with DET guidance re children of permitted workers/vulnerable children).
For Year 5 to Year 12 students the College is offering a synchronous learning approach which means students should follow their timetable and log on to their classes via TEAMS.
For Foundation to Year 2 student the learning approach is

asynchronous

to meet the developmental needs of the children.
All class work is available via SEQTA.
Classes will connect via MSO TEAMS.
Instrumental music lessons will proceed online.
St John's College Staff Responsibilities
RESPONSIBILTY
PERSON
Overall arrangements
Mrs Anna J. Urban
College Principal
Online learning support and remote learning coordination
Mrs Jac Manison
Head of Digital Practice
Risk Matrix and OHS Response
Mr Derek Sherwood
Director of Operations
Senior School Student Pastoral Care
Mr John Savopoulos
Director of Students Senior School
Junior School Student Pastoral Care
Mrs Effie Evangelakos
Head of Junior School
General Student Pastoral Care
Class Teachers JS
PC Teachers SS
Staff Pastoral Care
Father Leo
College Chaplain
Students with additional learning needs
Mrs Hari Vlahos
Learning Enhancement Coordinator
Students for whom English is as an additional language
Mrs Konstantina Dimitriadis & Mrs Abby Wells
EAL Teachers
COVID-19 RESTRICTIONS AT ST JOHN'S COLLEGE
Do not attend work/school if you are unwell – seek testing and self-isolate.
Our priority is your safety so we will further tighten our risk management practices in Term 3 including:
temperature checking for staff and students at the beginning of each day
everyone must regularly hand sanitise or wash their hands
everyone must practice social distancing
face-masks are compulsory for students over 12 years of age and all staff.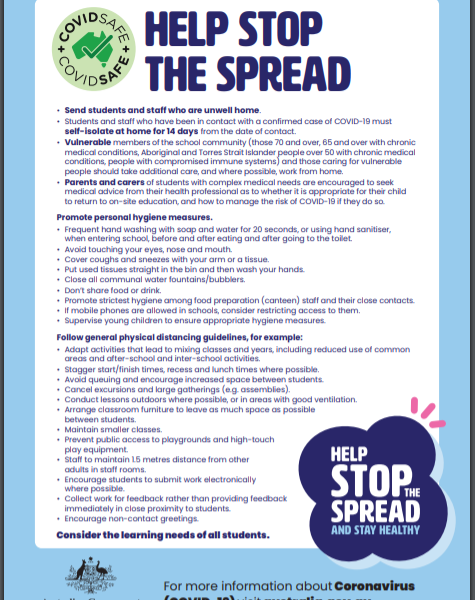 Symptoms
We remind everyone to be aware that others may be carrying the virus and to practise physical distancing. If you or anyone in your family is feeling unwell – stay at home. If you (your child or any member of your family) have the following symptoms, please get tested and let us know the outcome as soon as the result arrives. Symptoms include; fever, chills or sweats, a cough, a sore throat, shortness of breath or runny nose, or loss of sense of smell or taste. For more information about where to get tested visit the getting tested for coronavirus web page:
https://www.dhhs.vic.gov.au/getting-tested-coronavirus-covid-19#what-are-the-symptoms-of-coronavirus-covid-19