Children enrolled in our Pre-Primary to Grade 6 program learn to think critically and become more accomplished learners. At St John's College Preston we ensure that independent learning skills are nurtured in a safe, structured and flexible environment.
As part of our Junior School we aim to provide a learning environment that is positive, productive and secure.
Our Junior School curriculum focuses on establishing strong skills in literacy and numeracy. This is complemented by a diverse range of integrated studies including history, science, art, health and technology.
Our teachers plan for different rates and styles of learning and adapt their lessons to include multiple delivery methods.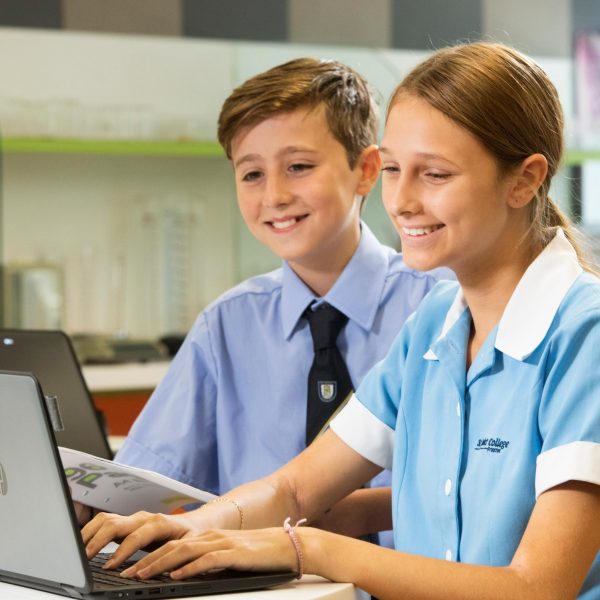 Students
EDROLO
From 2018 St John's College has used Edrolo. Edrolo is an online resources platform for VCE students, that provides students with online video lessons to supplement and support classroom teaching. Lessons  contain interactive questions throughout, providing students with instant feedback, and teachers with live data with regards to how their students are progressing. In addition to lessons Edrolo incorporates formative assessment as well as practice exams. Formative assessment tasks can be used throughout the year so that students also gain insights into their own strengths and weaknesses, so they can make sure their study and revision time is as effective as possible.
SEQTA Learn
Our College has invested in a learning management system called SEQTA. SEQTA brings teachers, students, parents and administrators together within a rich, collaborative environment where everyone gains value.
Students access SEQTA Learn anytime, anywhere and have access to lesson resources, homework,  assessments and feedback. Students can revisit lesson content, upload assessment items and monitor their feedback, when required. This always empowers students at St John's College to be on top of their own learning , know what is expected of them, revise and reflect on what they have already covered as well as be organised with upcoming homework and assessments.
Parents
SEQTA Learn
At St John's we believe by getting parents involved in their children's education means that we can all work together in partnership for better outcomes. Parents can access a Parent Portal of our learning management system, SEQTA where they get real time information about their child's learning. They can view homework's, lesson objectives and resources as well as assessments and feedback personalised for their child(ren). We encourage parents to support their children by accessing their timetable and seeing what subjects they have on a daily basis to help develop organisation skills. With parents having this information at their fingertips we are enabling parents to have meaningful conversations with their children about their learning which will help add value to the learning journey their children are on.
Staff
In an age of constant digital change, our staff complete regular formal and informal professional learning designed to increase their digital skills, capacities and knowledge. The planning and development of curriculum by staff is driven by our students' learning, with technology being used to provide increased possibilities to deepen and develop the thinking and understandings of students.
EDROLO
Edrolo is a complete resource for students and teachers. Teacher can use lesson theory that includes engaging video lessons, interactive quizzes and past exam questions covering the curriculum relevant to our college. Students are provided with immediate feedback when they answer questions and teachers, in turn, are provided with individual and class sets of data that can be used to identify gaps and further opportunities for revision. Activities are up dated regularly keeping students interested.
SEQTA Learn
Since the beginning of 2018, teachers at St John's College have been using SEQTA. This learning management system allows teachers to store unit plans, lesson plans, resources, assessments and feedback all in one place which helps them to build a picture of individual student performance, over time, on their learning journey. Attendance is currently recorded, and reports will be produced in SEQTA as of next year. Students can see what teachers upload in each lesson meaning they can hit the ground running each lesson as they can see what the learning objectives are and any relevant instructions. Homework is also explained so that students always have a point of reference. Without every student having their own laptop device, we are minimising as many barriers to learning as we can, so that every student has a positive experience at the College.