2022 Dux
College Dux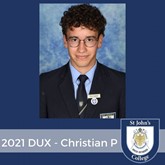 Congratulations to Christian P who is the 2021 College DUX.  Christian attended St John's College for 13 years and was a commendable student each and every year.  As a vice-captain of the College, he represented the school with pride.  We know he will be an exemplary alumnus who will continue to strive to achieve 'Philotimo' as he travels the journey of life.
Year 12 Success at St John's College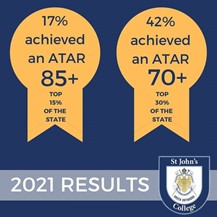 We are very proud of Christian and all our Year 12 graduates.  They have received offers into their preferred courses and pathways. Our results demonstrate that through providing consistent, high-quality teaching, alongside high expectations of our students, they can achieve great things.  Well done to all our students on their achievements and upon successfully completing VCE or VCAL.  All our students, whatever their chosen course, did their very best.  Our 2021 cohort persevered through two years of remote learning and so deserve extra commendation!
St John's College celebrates strong results as these accomplishments are the result of hard work on behalf of the students.  Our high performing students should have their achievements celebrated and praised.  However, academic excellence and high ATAR rankings or median study scores reflect only part of students' success at school; it is also important that all our students successfully completed their chosen courses and are well prepared for their desired future paths.  What is most important is that St John's College turns out young adults who take pride in their Greek heritage, have a strong faith identity, understand how to be responsible citizens and strive to walk the right path in life – Philotimo!
Whether students choose to complete VCE, VCAL or VET courses we know that all students must have high expectations of themselves, as well as grit and determination, to successfully complete their education.  Successful students need to work very hard, which means consistent application to learning in class as well as revision and study outside class time.