Principal's Welcome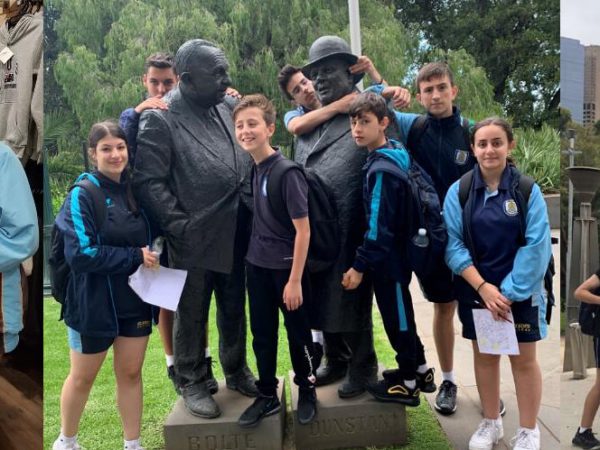 St John's College; we are a school within which community spirit flourishes
Principals are often asked about the things that make our schools unique and set us apart from others. It can be a tricky question to answer because there are so many things schools have in common. In fact, generally, there are more similarities than differences between schools. However, since commencing as principal at St John's College, I have noticed that what differentiates us is our strong and vibrant community spirit.
Since the commencement of the year, we have had many events both at and outside school involvingstaff, students and families. It has been enormously rewarding to see the high level of participation in these events which include; Archbishop Makarios' Name Day, the festivals at The Presentation of Our Lord, Coburg and St Haralambos, Templestowe, the Agiasmos Service (school blessing), the PA Family Picnic, the Junior School information morning, the Year 3 Camp, the Year 9 Explore Week, the evening information sessions for Junior and Senior parents and, over the last weekend, the Antipodes Festival. Coming up, we have the Youth Conference Day and the Greek Independence Day march.
None of these events would run as smoothly and vibrantly as they do without you, our community, providing high levels of participation and support. Therefore, I extend my gratitude to everyone for your time, assistance and enthusiasm. It has been a very busy start to the year, and I would like to extend a heartfelt thank you to our parents who so generously give their time for the benefit of our school. In particular, for your help preparing for the Antipodes Festival by packing the showbags and to our two super supportive mothers who arrived at 7.00am on Saturday morning to help Mrs Kathryn Drougas set up for the weekend.
Our College does not operate on a usual 'school week' timetable and we can only participate in these events with the commitment of our dedicated staff, whom I also thank for the hours they give of their own time. Finally, of course I thank our students who are the heart of the school and who also give so much of their own time attending events to formally represent the College as leaders, dancers, singers and musicians. We are very proud of all of you.
It truly is our love of our school and Hellenic culture, expressed in our community spirit and commitment to one another, that makes us a very special and unique learning community. I feel very proud and privileged to be your Principal and am enjoying working with all of you to build upon our strengths, so we may enjoy an even brighter future.
Anna Urban
Principal