Principal's Bulletin Term 3, Week 8, 2021

Dear St John's College Community,

His Grace Bishop-Elect Evmenios of Kerasounta
On behalf of the students, parents, teachers, the staff and Board of St Johns College, we wish to say a giant Axios with a single voice.  We are thrilled that Father Evmenios has been elected by the Synod of the Ecumenical Patriarchate to assist our Archbishop Makarios as a Bishop.  It is a great honour and responsibility and we pray for his new role in the life of the Church. Fr Evmenios has our College close to his heart.  He finds time to attend and has been an integral part of the renewal at SJC.  Axios Axios Axios!
Fr John Frangos, Chair of the College Board & Anna Urban, Principal
Happy Fathers' Day to all our loving fathers, grandfathers, stepfathers and uncles.
Once again Fathers' Day was more of a rest day than a celebration; we hope all our dads received a lot of messages of love from your families.  Thank you to the PA (Sarah V) for organising a raffle, the O'Neil family for once again so generously providing a prize hamper, and to Leo for drawing the winning tickets.  Congratulations winners – please see the PA Facebook page.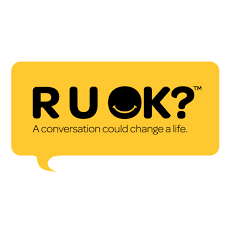 ARE YOU OK? Day – Sept 9th
What would you tell someone who is not feeling OK?  Ms Pradhan and Mr Gregory writing an original song from our community to all Australians.  Information is on SEQTA about how to participate in this event. Student's can provide input into the lyrics for the original song by clicking here.
This activity got me thinking about songs I love and the power of music to change our thoughts and moods.  One of my favourite songs is "Shower the People" by James Taylor.  The chorus, which calls us to love one another, follows:
Just shower the people you love with love. Show them the way that you feel. I know things are gonna be fine if you only will
Shower the people you love with love. Show them the way that you feel. Things are gonna be much better if you only will
I can't wait to hear the lyrics of our SJC original song and send our own message of love out into the world.  Please do participate in this exciting event; we are going to have a very special song launch in Term 4.
Low Tech Days
Thank you to teachers for planning 'low tech' learning days last week.  We have received a lot of positive feedback that these programs were of great benefit to the children who are fatigued and becoming disengaged from online learning.  We will continue to offer more low tech learning opportunities over the remainder of term.
Staffing
We are welcoming a new teacher – Mr Lewis Spiker – in Term 4.  Mr Spiker is going to teach PE, Health and Food Technology.  In Term 4 he will be co-teaching with Mr Sherwood and Mrs Urban in preparation for 2022.
Year 5/6 Camp Week
Congratulations again on organising a Virtual Camp for the Year 5/6s! Ms Krikelis informed us that other schools have contacted the College wanting information to replicate the event.  Thank you to Ms Hanos and Ms Watson for your creativity and ingenuity; this wonderful week helped ease the sting of missing out on camp.
Watch a little video of students in Year 5 and 6 dressing up:
Naplan Data
Congratulations to our students on wonderful NAPLAN results.  We are SO proud of the students' achievements across all year levels and test areas.  A letter was sent out to families of years 3, 5, 7 and 9 students this week; results will be mailed home in the coming week.  We have provided a graph (in the PDF version of the newsletter) in which have highlighted our performance against all school nationally.  Highlighted are the areas in which we have performed better (higher), equal to or lower than other schools.  As part of our school improvement program, we will focus on areas of strength (to ensure we keep doing what works) and areas requiring improvement (numeracy in particular).
The new Science of Reading approach in the Early Years will improve reading achievement in lower primary.
The implementation of Essential Assessment in numeracy (which we rolled out from year 5 to 10 this year) will be extended across the whole of the Junior School from Term 4.
The split class approach for Year 9 and Year 10 will continue as this enables learners to work at their point of learning need, in small groups (of 10 to 15), to ensure a high level of individualised support.
I am delighted to announce that Ms Teresa Attley will take the role of Math Coordinator for the Senior School commencing Term 4, to support Ms Chris Kargas implement the revised Math Curriculum.
Community Information Sessions
Thank you to Mrs Rachel Pascuzzo who gave a presentation about Literacy and Numeracy in the Junior School Thursday afternoon.  The community information series will continue through until the end of November.  This program has been put in place as a way for us to stay connected as well as to provide information to parents.  The full program is available on SEQTA.  Sessions will be recorded for folks who are not available to join the live ZOOM events.
Vaccinations/Covid Restrictions
If you would like information on vaccination, Mr Derek Sherwood has placed a notice on SEQTA and sent it home via SEQTA direct message.  There is also a message and letter from Minister Merlino that has been distributed to VCE students and their parents.
Term 3 Events
We are making changes to planned events in response to health and safety requirements/pandemic circumstances.  Please take note to changes to the school production due to the pandemic.
GAT for students undertaking VCE subjects –postponed until 5th of OCT
Senior School Formal at Tabor Function Room (Year 10 to 12 Students) – postponed until 10th DEC
17th Sept – Last Day of Term 3
26th Sept to 10th Oct – Costume and Artifacts Exhibition for 200 Years Greek Independence in College Sports and Arts Centre – Cancelled
School Production Prep to Y7, band and cast – this event will be performed during school hours on Friday November 19th and recorded/edited for viewing at home.
There is a LOT of information on SEQTA – please ensure you check the notice board a couple of times each week (as well as your SEQTA direct messages).  Take care everyone, stay safe and well.
God Bless,
Mrs Anna Urban, Principal