Senior School (Year 7 – Year 12)
A time to blossom
As our students enter adolescence, they begin to develop a deeper understanding of their particular interests, talents and strengths.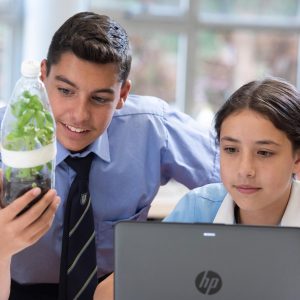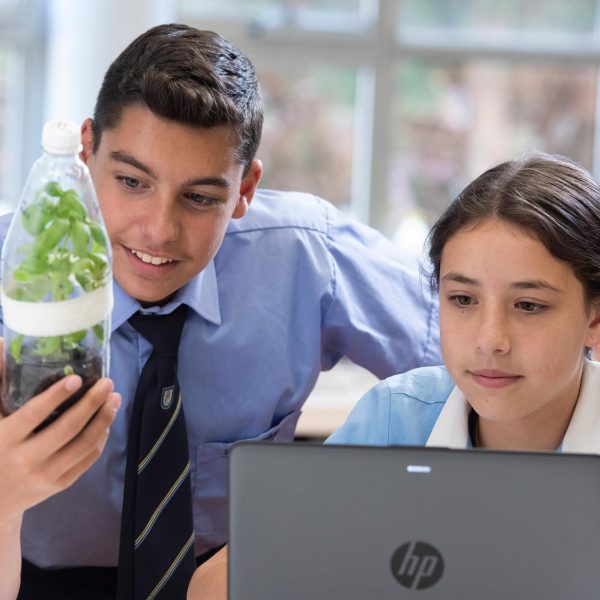 Therefore, we ensure that they have every opportunity to develop these personal gifts as well as being challenged to continually improve their learning within the core academic program. We offer the full range of Victorian Curriculum subjects at all year levels as well as a broad range of extra-curricular programs including student leadership, sports, debating, choir, school band and camps. Our senior students are supported to develop increased levels of independence, to set and achieve goals as well as learn how to be an active Christian and contribute broadly to our wider community. We provide our students with an array of leadership programs to ensure they understand the responsibilities they hold as leaders of the future in the wider community.
The St John's College VCE Program focusses on optimising learning outcomes for all VCE students. We offer a robust educational program that provides students with the opportunity to excel in their chosen field. During the Senior Years Program, our year 10 students embark on an exciting phase of their senior secondary education, while our year 11 and 12 students undertake their Victorian Certificate of Education (VCE). The College offers a broad selection of VCE subjects which allows each student to pursue their existing passions, and set up pathways that lead to university and career opportunities in their chosen field.
Every aspect of our Senior School learning program is designed to bring out the best in our students. We place great emphasis on independent thought and we aim to develop students who will who lead by example and make a difference in our community. Leadership, cultural enhancement, and debating are all central parts of our extended curriculum, for Senior Years students.
Year 7 Learning Neighbourhood
The first year of secondary school can be daunting so for this reason we provide our youngest senior students with their own classroom base. This ensures they have a learning hub and place of belonging to support this critical transition. At St John's College we only enrol 50 students in our Year 7 program which ensures a safe, personalised transition from the highly nurturing environment of primary school into Senior School life.
Year 9 Explore Week
The Year 9 'Explore Week' program at St John's College is designed to engage student learning outside the normal classroom environment. It consists of a week of excursions and incursions that provide students with an opportunity to develop the knowledge, skills and capabilities required for lifelong learning and informed citizenship. The program has been developed to incorporate curriculum content that focuses on Learning Areas and Capabilities in accordance with the Victorian Curriculum.
This program provides the springboard for project-based learning experience and the opportunity for students to self-direct their own learning.

Beginning Pathways Planning
Year 9 is an important year in Pathways Planning. Familiarising students with the attributes and skills necessary to fulfil their aspirations. The 'pathways work' that students complete leading up to, and during Explore Week is part of a program that reflects the goals of the Victorian Careers Curriculum Framework, designed to assist young people to:
Understand and manage influences relating to career planning and lifelong learning.
Develop skills, knowledge and capabilities to make career decisions.
Apply their learning to achieve educational and career aspirations.
Build resilience in their capacity to manage change throughout their lives.
Throughout the week, students visit local places like La Trobe University-Bundoora and Melbourne Polytechnic in Preston to discover pathways that are on offer in the local area. They also travel to the city via public transport to visit places of interest and learn about Melbourne's history and what it offers. These experiences assist students to develop responsibility, teamwork and solution focussed thinking.
Curriculum
Senior Years Curriculum
Every aspect of our Senior Years learning program is designed to bring out the best in our students. It encourages them to think for themselves and makes room for them to explore and test their individual interests and future career paths.
We encourage every student to develop his or her own talents and abilities across a wide range of interests. Our curriculum has been especially designed to capture the interests and passions of students at this stage of their learning journey.
Year 10 Curriculum
Core studies in Year 10 include; English, Mathematics, Science (Biology, Chemistry and Physics), History, Geography, Greek, Physical Education, Health Education, and Religious Education. Students may also select from a range of semester length elective units including; Sport Development, CSI, The Law, Business and You, Money and Maths, Digital Arts, and Creative Writing. These elective units allow students to explore strengths, interests and preferences before committing to a VCE study.
Careers
Career education is one of the key components for lifelong success. The Pathways Program at St John's College aims to provide a service that empowers and informs each student so that they can make well informed subject choices in preparation for life beyond school. For more information, please visit the Careers and Pathways page.
Work experience
Work Experience is a program where Year 10 students will be exposed to the world of work. Work experience can assist students to develop employability skills and an understanding of the work environment, career options and pathways as a positive foundation for their life-long learning. Students will spend one week of term time working with an employer to observe, learn and undertake manageable tasks that are part of the employer's work demands but within the skill set of the student. Students will gain an understanding of the workplace and work-related issues, such as technological change, health and safety, working conditions and wages.