Principal's Bulletin Term 4, Week 1, 2021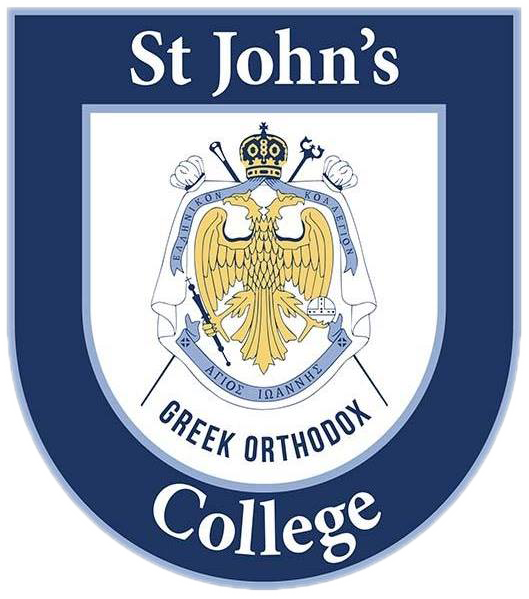 Dear St John's College Community,

As I welcome you all to Term 4, I recognise that the certainty we all long for remains elusive. During these times I ask you to pray for a smooth return to onsite learning. I also ask you to also pray for members of our own community who are very sick with the virus, including one of our mothers who is on life support in hospital.
The arrangements for our staged return to school are located at the end of this bulletin and will be available separately on SEQTA notices; please remember that the plan/s may change in response to Victorian Government/Department of Health directives.
Prayer Toward the Unknown
O Lord, You who steadied the hand of Peter as he began to sink on the stormy sea, if you are with me, no one is against me. Grant to me the shield of faith and the mighty armour of the Holy Spirit to protect me and guide me to do Your will. The future I put into Your hands, O Lord, and I follow You to a life in Christ. Amen
Curriculum Planning
Today our teachers were offered professional learning in understanding and using our 2021 Naplan data, to meet our students' learning needs. We also had PD in using the Jacaranda LEARN ON textbooks. Alongside this teachers were offered team planning time. Thank you, parents/carers, for supporting the curriculum day learning program this year; the teachers had a lot of work to do together. Our focus on curriculum reform is well underway and next year we will transition to small group planning workshops; this means school will start for students on the first day of each term in 2022 (unless there is a public holiday).
Enrolment
I am delighted to announce that in 2022 we will have two Foundation classes and two Year 7 classes. The renewed interest and trust in the College is reflective of the strong academic program we offer our students as well as our safe and nurturing learning environment. I thank our expert teachers who know how to maximise student engagement and achievement. I also thank Ms Drougas and Ms Sanelli for their excellent work around enrolment processes.
ARE YOU OK SONG
Thank you to everyone for contributing to our whole school R U OK song. Ms Pradhan and Mr Gregory, along with our instrumental music teachers, have nearly finished laying down the track. Your next task is to film yourself singing, playing along and dancing to the song. Follow the instructions (link on SEQTA); upload your video and then Ms Pradhan will create the video. We will launch our song on Oct 27th which is International Children's Day Australia.
If anyone you know is NOT OK encourage them to get help:
Kids Helpline 1800 55 1800
Lifeline 13 11 14
Seek help from your Spiritual Father
About the SJC R U OK? Song Click Here
Community Information Sessions
The community information series will continue through until the end of November. This program has been put in place as a way for us to stay connected as well as to provide information to parents. The full program is available on SEQTA. Sessions will be recorded for folks who are not available to join the live ZOOM events.

School Concert
The is event will be performed during school hours on Friday November 19th and recorded for viewing at home. Our Senior School students have indicated they would prefer to postpone the play/band components of the production until next year. Therefore, the production will take the form of a Junior School concert. Thank you, Ms Pradhan and Ms Dee, for supporting the students to prepare and being so flexible with the arrangements.

Rose Ceremony
The Rose Ceremony will take place; it will be live streamed for parents at home. Unfortunately, the Foundation children are not permitted to participate, and we are not able to have an assembly, however, we will continue (in line with Covid Safe Protocols) to ensure we make the final day of classes a special day for the Year 12 students.
Term 3 Arrangements
Thank you to Mr Sherwood who, as Director of Operations, is coordinating our response to the pandemic. The return to onsite learning will be phased
From Wednesday 6 October (first week of Term 4)
Year 12 – Victorian Certificate of Education (VCE) units 3 and 4 and final year Victorian Certificate of Applied Learning (VCAL) (Monday to Friday)
From Monday 18 October (third week of Term 4)
Prep (Monday to Wednesday)
Years 1 and 2 (Thursday and Friday)
From Tuesday 26 October (fourth week of Term 4)
Year 3 and 4 (Tuesday and Wednesday)
Year 5 and 6 (Thursday and Friday)
Year 7 (Monday to Friday)
Years 8 and 9 (Tuesday and Wednesday)
Year 10 (Thursday and Friday)
Year 11 (Monday to Friday)
From Friday 5 November
All students are expected to return to onsite learning Monday to Friday.
COVID-19 Protocols
Students who present with any COVID symptoms are to be sent immediately to senior reception and isolated in COVID-19 first aid room.
Classrooms
Rooms will be set up to support social distancing. Junior students are to sit in the same seat.
Students are to use their own equipment.
Good hygiene behaviours will be promoted.
The air conditioning split systems in classrooms may be used provided they are NOT set to air recirculation.
Ceiling fans are to be used on the lowest setting. Pedestal fans are not to be used.
Teachers will ensure doors and windows are open throughout the day to ensure airflow. The College is in the process of seeking grants for ventilators for classrooms.
Masks
Until restrictions change, masks are to be worn at all times by everyone aged 12 years and over both indoors and outdoors.
School staff are advised to wear a face mask while teaching wherever practicable, except where removal of a face mask is necessary for effective communication.
Senior school teachers must ensure students are wearing masks in class at all times.
Cleaning
Additional cleaning will continue.
REMINDER – HATS ON TERM 4: it's time to slip, slop, slap, slide and shade! Be SUNSMART.
There is a LOT of information on SEQTA; please ensure you check the notice board a couple of times each week (as well as your SEQTA direct messages).
Termly Value
We will continue focussing on our value of Achieve this term as we did not have much opportunity to celebrate this value due to the pandemic in Term 3.
Take care everyone, stay safe and well.
God Bless,
Mrs Anna Urban
​Principal