Principal's Bulletin Term 4, Week 4, 2021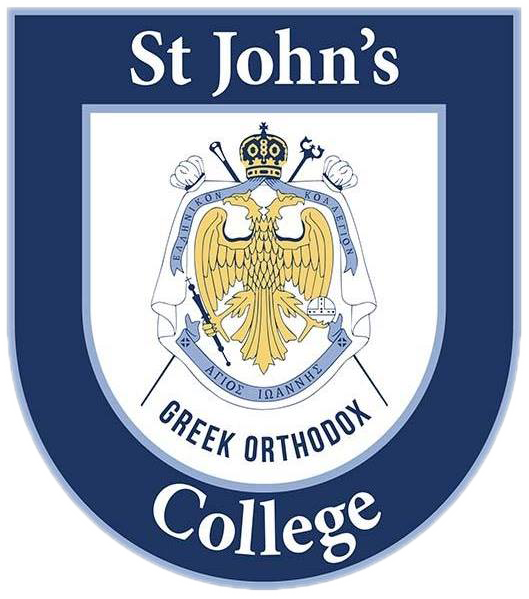 Dear St John's College Community,
We are relieved and delighted to announce that all students will return to onsite learning from Wednesday 3rd of November (Monday 1st is a Curriculum Day and Tuesday 2nd is Cup Day holiday).
We can't wait to welcome all the students and staff back to school this coming week. Thank you again for your support and messages of encouragement over the past two weeks. We do have several families affected by the virus and a number of people are in hospital. Please continue to pray for their full recovery.
Please see Mr Sherwood's SEQTA post for information about updated health and safety protocols.
SCHOOL RE-OPENING MONDAY 25TH OCT; timetable until Friday 29th Oct l Thursday 4th Nov
Children of essential workers and vulnerable students may attend each day in line with requirements. Please direct message Ms Victoria Mitchell on SEQTA to register as per previous advice.
Foundation students attend school Monday, Tuesday and Wednesday
Year 1 and 2 students attend school Thursday and Friday
Years 3 and 4 -Tuesday and Wednesday
Years 5 and 6 – Thursday and Friday
Year 7 and 11- full-time, five days
Years 8 and 9 – Tuesday and Wednesday
Year 10 – Thursday and Friday
From WED 3rd November all students may return to onsite classes everyday.
On the days students are NOT scheduled to attend on site, classes will be in teams and work available in SEQTA as per current remote learning protocols.
For parents who choose to keep children at home work will be available on SEQTA; teachers are not able to deliver face to face and TEAMS classes concurrently.
Students who present with any COVID symptoms will be sent immediately to senior reception and isolated in COVID-19 first aid room. Parents will be required to collect them from school as soon as they can.
Parent Teacher Student Conferences
Thank you to everyone for your engagement in the PTS interviews on Friday. It was wonderful to see the high number of appointments and have an opportunity to connect with one another albeit over TEAMS or the telephone. We commend our students on their engagement in learning over such a long period of remote learning. We are encouraged by the progress they are making and thank our teachers and parents for supporting them every day. Our home school partnerships have been more vital than ever before. I am so proud of the collaboration we have experienced.
Year 12 Exams
Year 12 exams commenced today (23rd Oct) with Sophia F taking her music performance exam. We hope you went well Sophia. Congratulations to our students who completed their Greek Language Oral Exams (Thursday and Friday just gone). English examinations are on Wednesday; we wish our Year 12 students all the best and pray for their success. Deep thanks to all our staff for helping our students to prepare in challenging circumstances.
OXI Day
Thursday 28th of October is OXI Day. Ms Giannos, Ms Krikelis, Ms Papakonstantinou, Ms Theofanis and Ms Drougas are planning observance events on the day including a short video and our student leaders will represent our College at a live streamed liturgy. "October 28, 1940, commemorates the anniversary when former military general and Prime Minister of Greece Ioannis Metaxas said: "OXI" (NO) to an ultimatum made by Italian Prime Minister Benito Mussolini, an ally of Nazi leader Adolf Hitler. On October 28 the Greek Orthodox Church commemorates the Feast Day of the Protection of the Theotokos, the Mother of God and Ever-Virgin Mary." We encourage you to commemorate the observance day and feast day with your children.
Online Learning
Please refer to SEQTA for all instructions about online learning. Please contact our Head of Junior School – Mrs Evangelakos, or our Head of Senior School – Mrs Sarigianoglou, if you need assistance or support. Feedback is welcome so if you need more (or less) work from teachers for your children please let them know. All families have different expectations and capacity to assist students; we are happy to make adjustments if they are required. Please see the SEQTA notice board for information on health and wellbeing services/information.
Community Information Sessions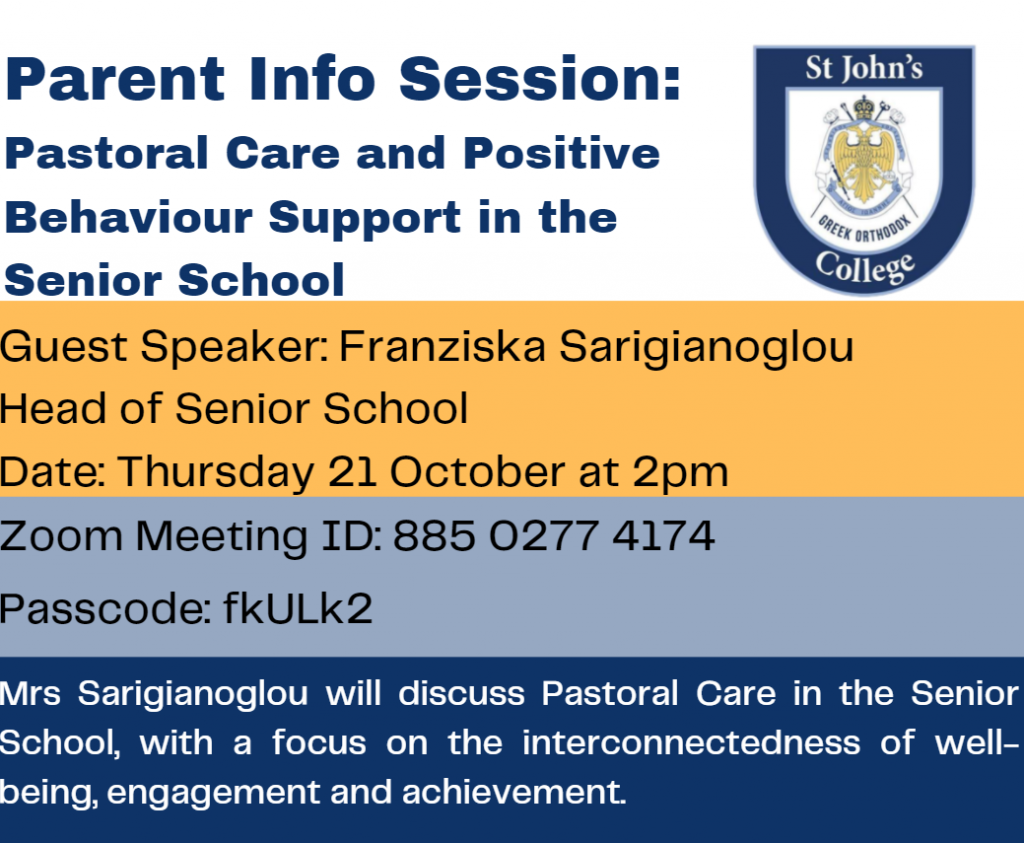 The community information series will continue through until the end of November. This program has been put in place as a way for us to stay connected as well as to provide information to parents. The full program is available on SEQTA. Sessions will be recorded for folks who are not available to join the live ZOOM events.
There is a LOT of information on SEQTA; please ensure you check the notice board a couple of times each week (as well as your SEQTA direct messages).
God Bless,
Mrs. Anna Urban
Principal