Principal's Bulletin Term 4, Week 7, 2021
Dear St John's College Community,
Remembrance Day
Thank you to Mr Sherwood, Ms Drougas and Ms Hanos who organised a minute's silence, the Last Post and the reading of 'The Ode' at 11am on November 11th. We honour all those who have lost their lives in war and pray for world peace. We thank God for our freedom and the blessing of living in Australia.
Arkadi Holocaust Memorial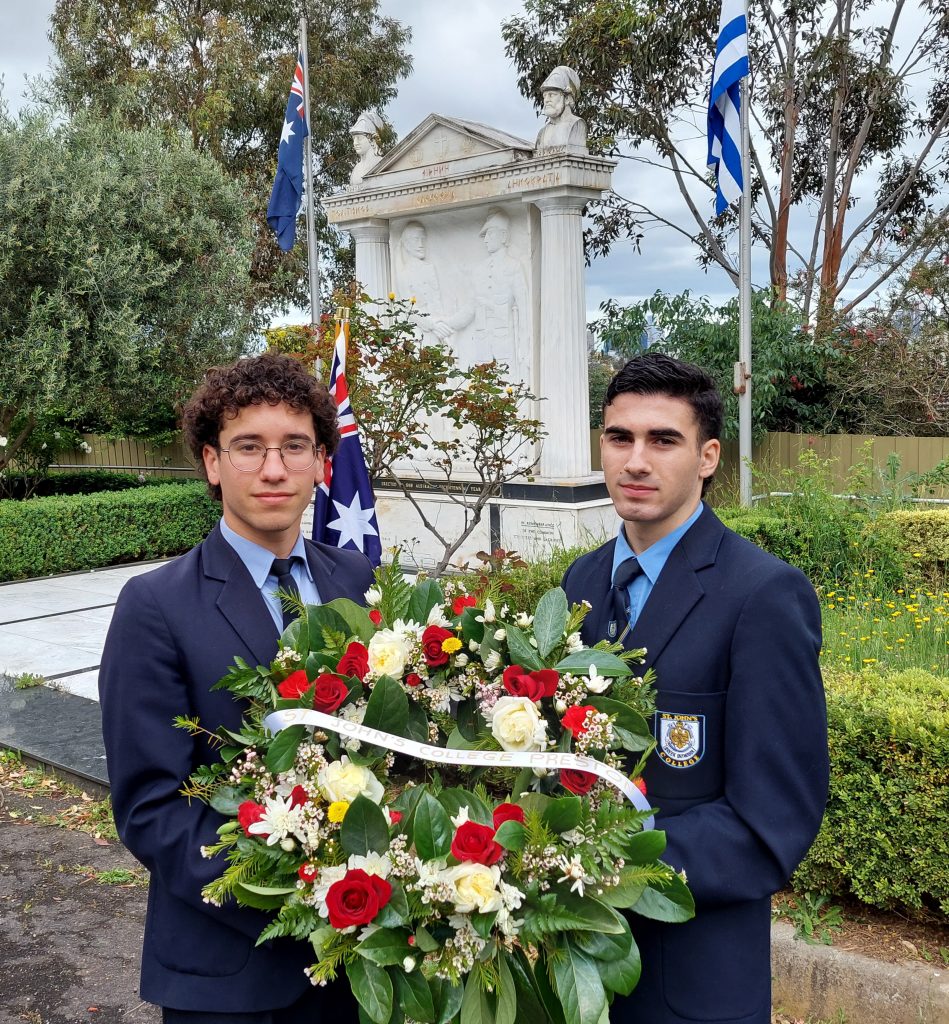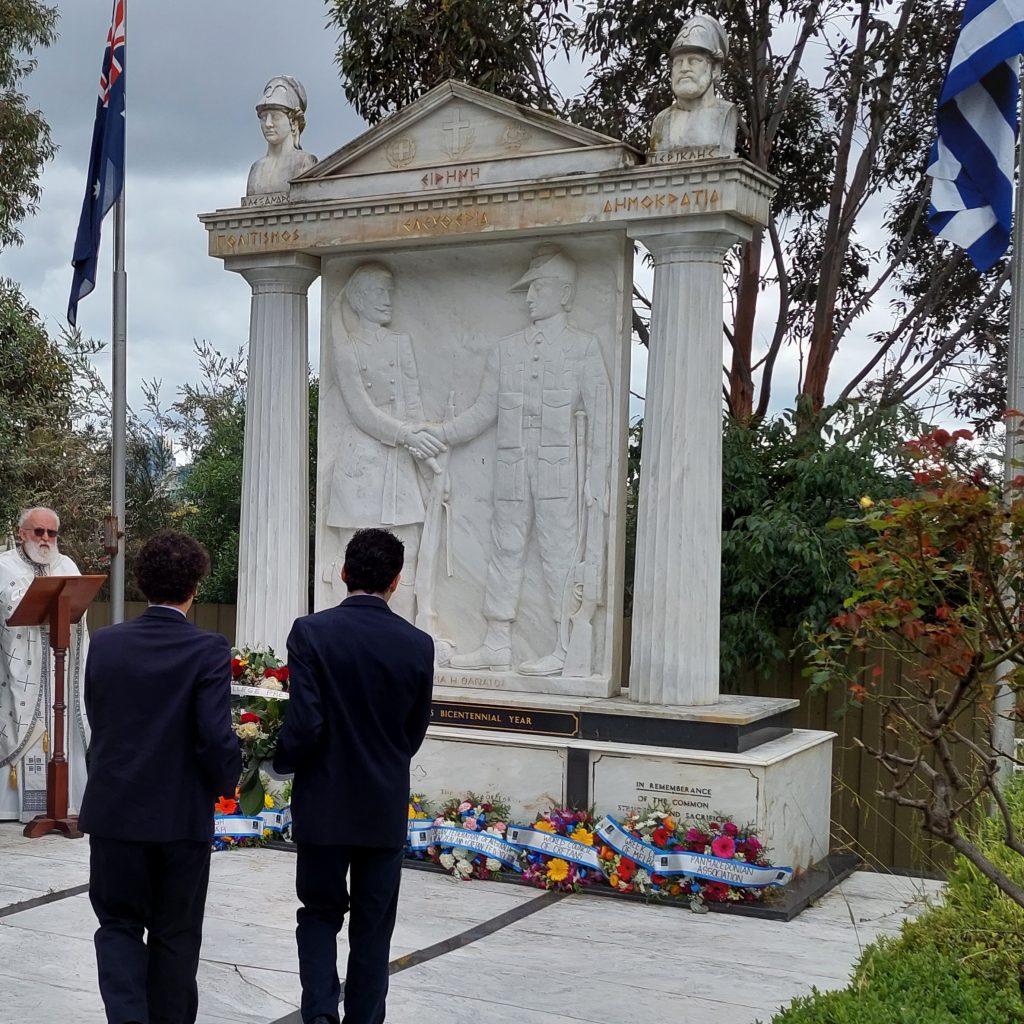 Thank you to Mrs Papakonstantinou and our students Christian P and Michael F for representing the College at a memorial service at the Axion Esti Monastery this morning (14.11.21). By remembering the fallen, including the innocent victims of war, we honour their memories and the tragedy of war.
Student Leadership
On Friday 12th November I, along with Mrs Sarigianoglou, interviewed applicants for the College student leadership program. One change we have made for 2022 is that students must submit a written application and have an interview to compete for a student leadership position. We were so impressed by the quality of the applicants and the articulate way they responded to our questions. Following are a selection of quotes from their responses:
Leadership is…
"… the way you carry yourself when no-one is watching," Helena
"…helping other people by telling them the right thing to do, politely and respectfully," Nicholas
"…trying to make the school values part of my nature," Archer
"…feeling proud of the school you go to. If you do the right thing everyone will follow," Calista
"…the way I present myself and leading by example," Kayla
"…trying your best, hoping others see and follow," Mary
"…putting in effort and doing your best," Maria
"…the things I do in my work and my presentation," Daniel
Our school….
"…speaks for itself. You can feel the positive energy and you want to be part of it," Maria
"… is like a family. Very inclusive. We adopt everyone. We involve ourselves with the outside community," Kayla
"…is a great school. I come here for the people," Mary
"…is a really great environment. It's so positive. It's like a family. No one puts anyone down," Calista
"…the environment is so special. I feel safe and happy every day," Helena
"…a really great school. I've been here since Prep. I've never had any problems. You would not find a better school for Christians," Archer
"We wear our uniform with respect and pride. We welcome everyone," Nicholas
"The teachers are friendly, you are not afraid to ask for help," Daniel
Our parents and staff should be very proud of our students. Unfortunately, no boys from Year 11 or 12 chose to apply for the positions despite Mrs Sarigianoglou and I tapping some of them on the shoulder several times. We respect their decision, however, this does means we will have all female captains in 2022. It was great to see some of the younger boys apply for leadership; I am certain the leadership program, coaching and training we will provide will help them build confidence to apply for captain positions in future years. Congratulations and thank you to the students who applied; we will announce the appointees (one for each class group in Senior School and our Captains) on Presentation Day – Monday 13th December. Parents will be informed so they can attend (providing they are immunised).
Values Education Summit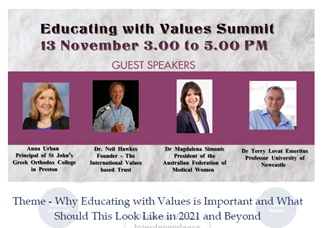 I was proud to represent the school at an online Global Values Summit on Saturday afternoon. I spoke about our work as a community striving to affirm and live our values every day. There were several eminent speakers including Dr Neil Hawkes. Dr Hawkes writes 'values-based education is the philosophy and practice that inspires both children and adults to be the best that they can be. A positive mental attitude empowers young people with a sense of their own future and their potential to shape it according to their own purpose. Values based education creates a happier and more productive learning environment by raising students' self-awareness and self-confidence.' It was very affirming to hear Dr Hawkes and the other speakers. I am even more certain our work around our shared expectations and living our values everyday ensures our school achieves:
• academic diligence,
• relational trust,
• promotion of universal positive human values our children will need throughout their lives.
Community Information Sessions
Thank you to Carly Burgess our psychologist for presenting 'Help! My child is becoming a teenager!' and Dr Gabby Ostrognay for presenting the results of the Parent Opinion Survey last week. These sessions conclude the community information series for 2022. Thank you to Mrs Kathryn Drougas and Mrs Daniela Amore for your administrative assistance, to all our presenters and to our community for tuning in to participate. All sessions are available on the SEQTA splash page.
Parent Association Update
Thank you to everyone who attended the PA AGM and meeting last week. Congratulations to the newly elected office bearers and thank you to all of you who take on organisational roles or support the PA; we deeply appreciate your time and commitment. The canteen was re-opened Friday, and it was lovely to spend lunchtime with the team serving nutritious lunches to our students. There were so many happy smiling faces! If you want to volunteer email pa@stjohnspreston.vic.edu.au
Book Week
Thank you to Ms Krikelis and Ms Bailey for organising Book Week activities. The students looked fantastic in dress up clothing on Friday. Congratulations to competition winners:
• Damianos G: Foundation
• Aria I and Kalliope S: Year 1/2
• Christos S and Leon P: Year 3/4
• Mary P and Alexandros P: Year 5/6




Junior School Rock Concert Update
The Rock Through the Ages dance production will be performed and filmed on campus on the 19th of November. Students will need to rehearse along with the Padlet videos at home between now and the 19th to be prepared for the performance. We will also be rehearsing at school. Performance day will be a dress up day with students arriving at school in their costumes. Information about the costumes and the Padlet is available on SEQTA. The performance will be professionally filmed and edited; once complete the performance will be launched online. Mrs Shanti Pradhan, Music Teacher P-12.
PAT Testing
This week our students from Year 2 to Year 10 will participate in annual literacy and numeracy testing. We undertake testing to gauge the level of learning progress our children have made. Given all the disruptions to learning it is very important to ascertain the learning growth our students have made. Thanks to Ms Kargas and teachers for coordinating this annual testing program.
There is a LOT of information on SEQTA; please ensure you regularly check the notice board as well as your SEQTA direct messages.
God Bless,
Mrs Anna Urban
College Principal