Principal's Bulletin Term 1, Week 10, 2022
Dear St John's College Community,
We made it!
Hooray – we made it through a whole term together on-site without a lockdown! It has been a total delight for the students to be learning together and rekindle their friendships. An enormous thank you to Mr Derek Sherwood: one of his jobs is daily organisation and, despite a state shortage of teachers, he was able to cover the many 'extras' (classes/duties) created due to pandemic related teacher absences. We are very lucky Mr Sherwood is also a talented musician and has also been able to assist Year 11 music during Ms Pradhan's absence. Thank you to Mrs Evangelakos who stepped into Year ¾ for a long period while Ms Powell was ill. Thankfully Ms Powell is better and returning to school this coming Monday. Thank you to our VCE students for being self-directed learners in the library on occasions when your teachers were away. Thank you parents/guardians for your understanding, patience and support in tolerating disruptions to programs due to the pandemic related (unavoidable) teacher absences.
A BIG thank you to our teachers who have covered many extra lessons and duties this term to support the students when their colleagues were unwell/isolating:
we deeply appreciate your commitment to our students.
Thank you to Ms Giannos and Ms Krikelis who organised the Apodeipnon (Compline) Prayer Service last week and to Mr Neilson for organising the Athletics Carnival; what a joy for our community to be able to pray and play together.
There is only one week to go and then everyone will have the opportunity to have a break. I encourage our parents/guardians and teachers to rest over the upcoming break because to care for our children we need to care for ourselves.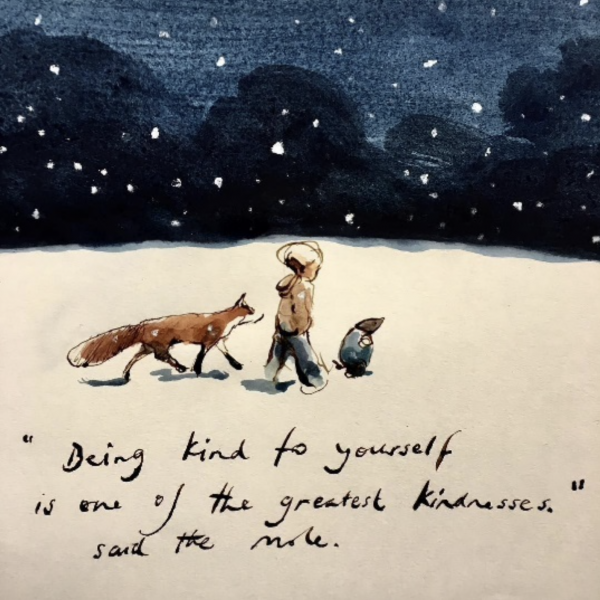 Illustration from 'The Boy, the Mole, the Fox and the Horse' by Charlie Mackesy. A story about friendship and hope.
Welcome Nikos Bogiannidis – our new Digital Learning Specialist
Nikos Bogiannidis will commence at St John's College in the middle of Term 2. He is an experienced educator and researcher who holds a Diploma of Teaching, a Graduate Diploma in Educational Studies and a Masters Degree in the effective use of tablet technologies in education. Nikos is a Monash University PhD candidate. His research interests include evidence-based instructional leadership in the digital era, innovative and meaningful use of digital technologies in K-12 settings, smart rhizomatic learning spaces, and blended adaptive environments.
For the past 15 years, Nikos has been leading various technology implementations and initiatives at one of Australia's largest private schools, including iPad and laptop deployments, implementation of Learning Management Systems (Blackboard, Canvas and SEQTA), online learning, school-wide professional development and global collaborations.
Nikos is also an experienced Greek bilingual and technology teacher, digital instructional leader and coach. He is dedicated to student success and is passionate about creating meaningful contemporary learning environments to prepare students for a technology-rich world.
Nikos looks forward to collaborating with our staff and being part of St John's College vision and roadmap to the future.
Bus Monitors for SJC Buses
Bus Monitor is a position of distributed student leadership for students in Secondary School. Bus Monitors help make bus travel safe and comfortable for students. Their role is to:
Role model expected behaviours on the bus.
Help younger students on the bus.
Inform the Principal if there are any issues of concern on the bus (note – they are not expected to address the behaviour of other students).
Thank you to our student leaders who already support students who travel on buses. Our College Captain Maria assists our younger students and in doing so sets an example of our school values enacted; thank you Maria. Students who are bus travellers and would like to be a bus monitor please send a SEQTA Direct Message to Mrs Urban. Thank you.
Teacher News
Unfortunately, Ms Pradhan is unwell and unable to complete reports or parent-teacher interviews this term. Ms Pradhan has also made the decision to leave St John's College at the end of this term for personal reasons. We thank her for her contribution to the College: the concerts and performances facilitated by Ms Pradhan in 2021 uplifted us all in a very bleak year. We hope she gets better soon and wish her well for the future. We are in the process of recruiting a new music teacher and hope to have an update very soon.
Events


Reminders
Assembly: on Mondays at 8.30 we have whole College assembly in the Senior School Agora. Parents and guardians are welcome.
Child Safety: students arriving before 8.15am on school buses are supervised in the Senior School Agora.
Gates open at 8.15am for all other students. Book your children into before and after school care to ensure they are always supervised and safe.


For all Covid-19 related enquiries please see Mr Sherwood's posts and/or DM Mr Sherwood who is coordinating our response and operations.
Please ensure you regularly check the SEQTA notice board as well as your SEQTA direct messages.
Save the date for our family dinner dance: Saturday 11th of June. The final bulletin for the term will be an Easter special.
God Bless,
Mrs Anna Urban
College Principal